'Crispy Crunchy Nothing' puts to rest any notion Madeline Link had about finding the end. Burnout, dead-end jobs, bike theft, stress dreams, heartbreak — PACKS move forward through them all one line, one lick, one beat at a time, equal parts Alex G's whimsy and Helvetia's thunderous dynamics.

Crispy Crunchy Nothing is heavy, and Madeline makes little effort to hide the depths of her feelings. But after the rain, flowers peek up from the soil. "So now, I feel alive," she repeats, over and over again. And by the end, it sounds like she's starting to believe it. 

Meanwhile, watch the video for 4th of July, directed, edited and filmed by Breathe Ent.
STORE
Pre-order Crispy Crunchy Nothing on red or black vinyl.
Take the Cake is also still available through the links below.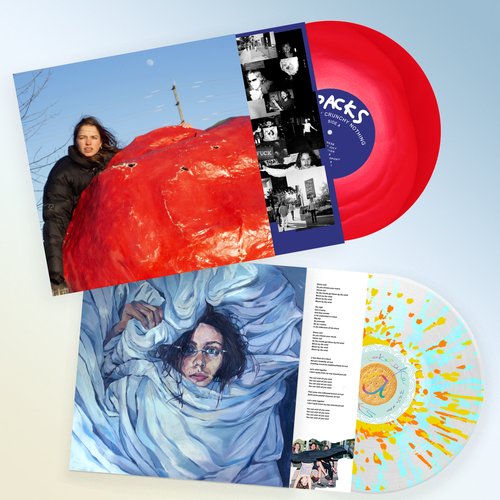 FrontView Magazine: "PACKS Share New Single "Abalone" Out Now on Fire Talk – December 15, 2022

"Accompanied by a video that collects candid footage from their 2021 tours, the track re-introduces PACKS as a full band following the stripped down WOAH EP, and showcases an engaging and exploratory melody from Link that she unwinds over the band's mesmeric, psych-adjacent groove."
WOAH – an 8-song EP and album film – was released July 8, 2022.
PRESS
UPROXX Indie Mixtape 20: "PACKS Loves Fat Chords" – Carolyn Droke, December 28, 2022

Now gearing up for more music in the new year, the band's latest single "Abalone" sees vocalist Madeline Link's detached vocals flowing with the band's cool-tone chords. "Fresh-cut grass and a sun-split lip / Quit lookin' at me from the corner of your eye," Link sings in the opening lines of PACKS' latest track "Abalone." The song perfectly encapsulates how their music combines snapshots of ordinary life with haunting melodies to make the dull seem extraordinary.
Also Cool Mag: "Also Cool's POP Montreal Top Picks: Round One" – September 18, 2022

"Slack-rock quartet PACKS has been on our artists-to-watch radar since their debut LP Take the Cake (2021). Led by Madeline Link, the project began as a creative back-and-forth between Ottawa and Toronto, with Link sending her bare-bone bedroom demos to her bandmates for exploration via Google Drive. The resulting album was a smash and saw the band tour their slow-burning, timeless sound extensively. Since, Link has made it clear that she isn't resting on her laurels with the release of her latest EP WOAH this past summer. Accompanied by an acoustic guitar, WOAH has Link returning to her solo, unbrushed songwriting roots with a refined lyrical palette and imaginative composition (and an ode to Ottawa commercial radio on the track "fm")."
Exclaim: "Rising Alt-Rockers PACKS Have a Heroic Homecoming" – Ian Gormely, March 6, 2022

"As lovely as Take the Cake is, its songs truly come to life on stage. Opening with the new tune "Fourth of July" not 10 months since they dropped their first full-length was a sign that the quartet aren't about to rest on their laurels."
NME: "PACKS: lo-fi slacker rock that confronts an unpredictable world" – Mia Hughes, May 24, 2021

"Art school is all about, 'How can you make money and how can you be famous?'" Link says. "Whereas with a craft that's meant to be destroyed, you don't have to keep it and you don't have to sell it. That was the most inspiring thing that I had ever learned."
Exclaim: "Toronto Slacker Rockers PACKS Sign to Royal Mountain / Fire Talk" – Matt Bobkin, February 10, 2021

"Toronto-based singer-songwriter Madeline Link turned her solo project, PAX, into a full band some time ago. Now, the slacker rockers have been reborn as PACKS and signed to Royal Mountain and Fire Talk Records. To celebrate, they've shared two versions of single 'Hangman.'"
---
---
Recent Dates
Supporting Fleece:
Wed 19 October – L'Anti Bar & Spectacles, Quebec City
Fri 21 October – Théatre Fairmount, Montreal
Sat 22 October – The Rainbow, Ottawa
Sun 23 October – Horseshoe Tavern, Toronto
Tues 25 October – Palasad Social Bowl, London

Fri 30 September – POP Montreal Festival – Casa del Popolo, Montreal, QC
PACKS loved supporting Good Morning, a lil band thing from Melbourne, on a tour of America this spring. Thanks for coming out!
Thu 31 Mar – Soda Bar – Kumeyaay Land / San Diego, CA
Fri 1 Apr – Glass House – Tongva Land / Pomona, CA
Sat 2 Apr – The Chapel – Ohlone Land / San Francisco, CA
Mon 4 Apr – Polaris Hall – Chinookan Land / Portland, OR
Wed 6 Apr – Neumos – Si'ahl / Seattle, WA
Thu 7 Apr – The Shredder – Shoshone, Bannock Land / Boise, ID
Fri 8 Apr – The Beehive – Pi'a-pa / Salt Lake City, UT
Sat 9 Apr – Ophelia's – Apache, Ute, Cheyenne, Comanche, Arapahoe Land / Denver, CO
Mon 11 Apr – 7th St. Entry – Dakhóta Land / Minneapolis, MO
Tue 12 Apr – Cactus Club – Millioke / Milwaukee, WI
Wed 13 Apr – Sleeping Village – Shikaakwa / Chicago, IL
Thu 14 Apr – Loving Touch – Anishinabe, Haudenosauneega Land / Ferndale, MI
Fri 15 Apr – Adelaide Hall – Tkaronto / Toronto, ON
Sat 16 Apr – La Sala Rosa – Tiohtiá:ke / Montreal, QC
Sun 17 Apr – The Sinclair – Massachusett Land / Cambridge, MA
Wed 20 Apr – Elsewhere Hall – Lenape Land / Brooklyn, NY
Thu 21 Apr – Johnny Brenda's – Coaquannock / Philadelphia, PA
Fri 22 Apr – Capital Turnaround – Nacotchtank Land / Washington, DC
Sat 23 Apr – The Southern – Monacan, Manahoac Land / Charlottesville, VA
Sun 24 Apr – Richmond Music Hall – Algonquin Land / Richmond, VA
Tue 26 Apr – Grey Eagle – Cherokee Land / Asheville, NC
Wed 27 Apr – Purgatory at The Masquerade – Creek, Cherokee Land / Atlanta, GA
Thu 28 Apr – Proud Larry's – Chickasaw Land / Oxford, MS
Fri 29 Apr – Chelsea's Live – Chitimacha Land / Baton Rouge, LA
Sat 30 Apr – The Satellite – Atakapa Land / Houston, TX
Sun 1 May – Paper Tiger – Payaya Land / San Antonio, TX
Tue 3 May – Hotel Vegas Patio – Tonkawa Land / Austin, TX
Wed 4 May – Deep Ellum Art Co – Nermernuh Land / Dallas, TX
Thurs 5 May – El Cosmico – Jumanos Land / Marfa, TX
Fri 6 May – Club Congress – Ts-iuk-shan / Tucson, AZ
Sat 7 May – The Belasco – Tongva Land / Los Angeles, CA
MAR 10-20 Austin, TX at SXSW:
MAR 17 Hole in the Wall
MAR 18 Swan Dive – Fire Talk Showcase
MAR 5 Toronto, ON @ Baby G w/ Triples and Ryder the Eagle
MAR 4 Ottawa, ON @ Live on Elgin w/ Ryder the Eagle
MAR 3 Montreal, QC @ Bar L'Esco w/ Tinkertoy Fog Machine

OCT 28 Ottawa, ON @ Live on Elgin w/ texas princess
OCT 27 Montreal, QC @ Bar le Ritz w/ Scree Running & Empty Nesters
OCT 26 Boston, MA @ Tourist Trap w/ Raavi & Statehouse
OCT 24 Philadelphia, PA @ Ortlieb's w/ Wombo & Gloss
OCT 23 Brooklyn, NY @ Baby's All Right w/ Wombo & Mamalarky
OCT 21 Chicago, IL @ Empty Bottle w/ Wombo & Smut
OCT 20 Louisville, KY @ Flamingo Lounge w/ Wombo & Ted Tyro
SEP 24 London, UK @ Sebright Arms
SEP 12 Brighton, UK @ The Hope & Ruin
SEP 4 Manchester, UK @ Manchester PsycheFest
Review: PACKS Go Underground to Perform an Intimate Gig